Write better code with ESLint and Prettier. In this tutorial, you'll learn how to integrate linting and code styling into your workflow with TypeScript.
Since the release of AWS Lambda, serverless architecture has grown more popular within the software development community. Our Laravel Community of Experts shares how to easily create a serverless application using Laravel and Bref.
Three Modus Employees recently released Docker for Developers. Read about the creative process and how the book turned out.
Protect your web applications in Microsoft Azure using Application Gateway, Front Door, and Web Application Firewall. Fernando Matsuo Santos shares security best practices for detecting and preventing malicious traffic.


Asynchronously building a distributed application with microservices requires teams to critically evaluate feature importance and consider trade-offs. Learn how CQRS and event sourcing can help create more performant, consistent, and available applications.
User Interface engineer Trevor Brindle shares how he proactively made a major improvement to the developer experience for his team at one of our clients, reducing a barrier that allowed them to more rapidly push updates to the client's product.
A/B testing enables teams to measure the impact of their work and better understand how their customers behave, but can waste resources and limit growth when used incorrectly. Sr. Product Strategist Vera Ginzburg shares insight on when to use and when to not use A/B testing and tips for delivering more valuable products.


For teams struggling to adjust to working from home, the loss of in-person meetings can hinder their ability to deliver strategic outcomes, gain internal alignment, and coordinate on deliverables. Learn how to leverage remote workshops to fuel effective collaboration in this article.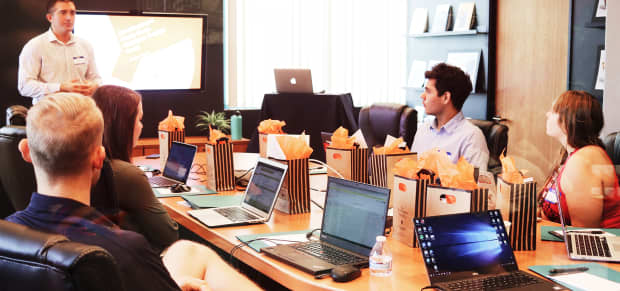 Setting the right KPIs allows you to analytically track and evaluate work to drive more successful outcomes. Read how Modus adapted Google's HEART framework to measure customer success and learn how to use KPIs to make more meaningful decisions.
Subscribe to the Modus Newsletter
Receive the latest blog articles and insights every month from the Modus team.